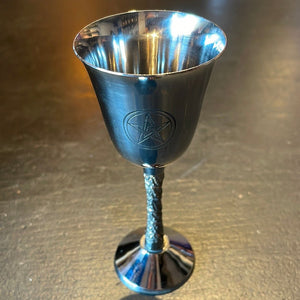 In Wiccan tradition, the chalice is usually silver in colour and metal which are sacred to the Goddess. The Chalice is a symbol of abundance and fertility, and has several purposes in Wiccan rituals, including offering libations to the deities and with cakes & ale in rituals. The chalice may hold moon water, wine or ale, depending on the ritual.
The pentacle is perhaps one of the most recognizable symbols that Wiccans and Pagans use. The base symbol is the five-pointed star, which can be drawn non-stop without lifting pen from paper. Enclosing the pentacle is often a circle. For many Wiccans and Pagans the pentacle is a symbol that represents magic and magical workings as a whole. For others it's used as a talisman, a connection to the divine, to open and close circles and a myriad of other ritual uses.
*Approximately 4.75 inches tall
**Does not include wooden tray or dried rosemary in pictures 
Witch Chest is happy to offer free contactless delivery in Ottawa on Sunday evenings for orders received by noon on Saturday (weather permitting). Simply select "Local Delivery" on the shipping page.

Have questions, email me at julie@witchchest.ca

Many Blessings!