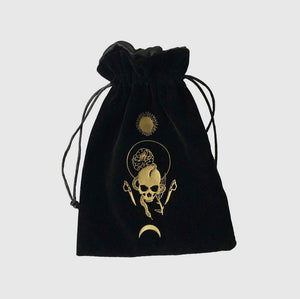 Satin-lined velvet pouch with drawstrings and printed with an icon displaying all of the suits of the Marigold Tarot - halo (rings), daggers (swords), skull (cups), and the marigold flower (wands). Bordered by the sun and a crescent moon. Holds the tarot deck box and cards comfortably.
Size: Approx 6"×7.9"
Material: Velvet, satin lining, screenprinted with metallic gold ink.
These cloths are silkscreened by hand, and as such some variations in colour or printing may occur.
Spot-wash cold-water only, no washing machines, hang dry.
Witch Chest is happy to offer free contactless delivery in Ottawa on Sunday evenings for orders received by noon on Saturday (weather permitting). Simply select "Local Delivery" on the shipping page.

Have questions, email me at julie@witchchest.ca

Many Blessings!