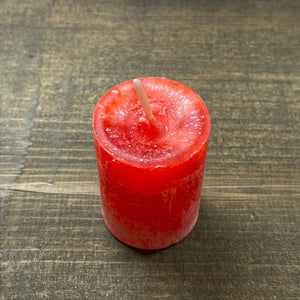 The Love votive is designed to open your heart, mind, and spirit to the ultimate source of love. Through this universal love you can manifest what you desire and deserve. This fragrance is blended with the magic to bring about a true understanding of the love that starts within the self, for when there is self-love; you feel deserving of all good things. 
 Blessing: I am open to receiving the love that surrounds me and I give love without reserve. 

*Fragrances of Lavender, Cinnamon & Pachouli
**Burn time approximately 10 hours
***Approximately 2 inches tall by 1.5 inches wide
Are you interested in learning more about our Attraction/Love Votive Candle By Coventry Creations?

Please reach out to me at julie@witchchest.ca

Many Blessings and Merry Meet!