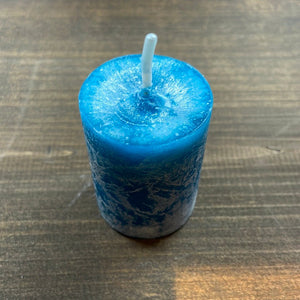 Blessed Herbal Emotional Balance Power Votive
Emotional Balance is found when we begin to trust our instincts and strengthen our connection with the Divine. It is this source of life that fulfills us and allows us to flow into our destiny. Water represents the sub-conscious, the place of dreams, instinct, and emotions. From this place you will find the conduit to divine wisdom and greater psychic powers that bring your emotions into balance. 
Blessing: I release the binding thoughts that keep me in this state of turmoil. I surrender to the flow of life, achieving my balance. 

*Fragrances of Sandalwood and Rose
**Burn time approximately 10 hours
***Approximately 2 inches tall by 1.5 inches wide
Witch Chest is happy to offer free contactless delivery in Ottawa on Sunday evenings for orders received by noon on Saturday (weather permitting). Simply select "Local Delivery" on the shipping page.

Have questions, email me at julie@witchchest.ca

Many Blessings!