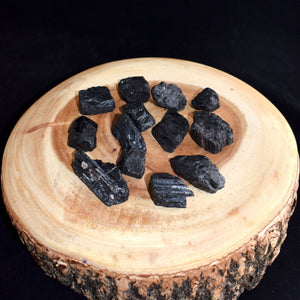 Black tourmaline is a very powerful spiritual grounding stone that protects against negativity of all kinds. It sucks up any negativity it encounters. However, it does not absorb the negative energies, but rather it transmutes negative energy into positive energy. It is the only stone that heals on all levels – physical, emotional, mental and spiritual.
*Price for each crystal is for one piece
**Does not include wooden tray in pictures 
Are you interested in learning more about our Black Tourmaline (Raw) - Brazil?

Please reach out to me at julie@witchchest.ca

Many Blessings and Merry Meet!