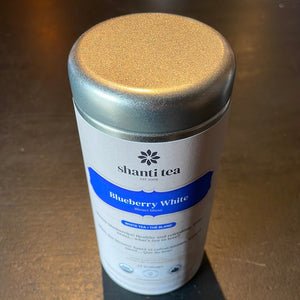 Mmmm blueberries! Healthy and refreshing, fruity, sweet.. what's not to love? Although our blueberry white is a great hot tea, it comes out wonderfully when iced and maintains its clean and sweet taste. The floral qualities of the Bai Mu Dan base are maintained and the blueberry essence doesn't overwhelm the palate. A perfect balance for those who love the taste of blueberries, and a great summertime drink! Blueberries are one of the only fruits native to North America.
Blueberries are high in vitamin C, a strong antioxidant offering support for the immune system. Blueberries also contain fibre, folate, iron, manganese, potassium, calcium, magnesium, phosphorus, sodium, zinc, copper, B vitamins, vitamin E and silicon. All in one little, tiny berry!
Are you interested in learning more about our Blueberry (White)- Shanti Tea?

Please reach out to me at julie@witchchest.ca

Many Blessings and Merry Meet!