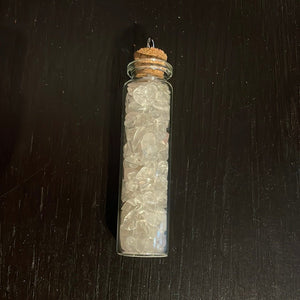 Tiny crystal chips are an excellent size for spell jars. Spell jars or bottle spells are magickal objects used for various purposes, such as protection and manifestation. The jars typically contain crystals, herbs and oils. They may also include a spell written on a piece of paper to enhance the spell by explicitly expressing the user's intention. The spell jar is often sealed with wax, which may be etched or stamped with a symbol associated with the magick in question. If you are creating a spell bottle, make sure that as you gather your ingredients you are focused on your spell's intentions. That way the energy will build and increase the success of the spell.
Clear Quartz - The most powerful healing stone on earth.  An energy amplifier develops spirituality and connection to the universe beyond self. An excellent crystal to work on your crown chakra.
*Crystal chips are in a 20ml glass bottle with cork top (screw in cork for easy opening)
**Does not include wooden tray in pictures
Thank you for visiting WitchChest.ca

We are proud to be Ottawa's ritual product store.

Many Blessings!