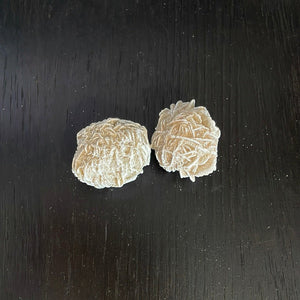 Desert Rose is a form of a selenite that occurs naturally. It is also an excellent meditation stone and connects one to higher self. It is a strong activator of the third eye, enhances psychic abilities, clairvoyant gifts and intuition. It enhances dreams and past life recall. It raises vibrations and helps open and clean upper chakras, restoring balance. It's a stone that will eliminate stagnation in life and give motivation and initiative to pursue goals and dreams.
*Price for each crystal is for one piece
**Does not include wooden tray in pictures 
Witch Chest is happy to offer free contactless delivery in Ottawa on Sunday evenings for orders received by noon on Saturday (weather permitting). Simply select "Local Delivery" on the shipping page.

Have questions, email me at julie@witchchest.ca

Many Blessings!