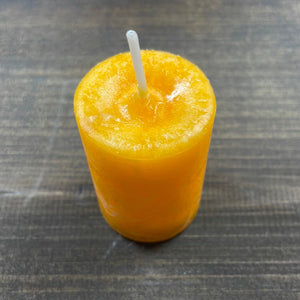 Blessed Herbal Energy, Will, and Fire Power Votive
From the center of your will anything can be accomplished, for this is the first step on the road to manifesting your desires. Inspiration is the breeze that inflames the embers of your spirit, but it is the energy of passion that is required to take an idea and transform it from thought into action. Your will and ego are the motivating factors for most positive changes. 
Blessing: I am filled with the power of transformation to energize me body, mind, and spirit 
*Fragrances of Sandalwood, Ginger, and Frankincense
**Burn time approximately 10 hours
***Approximately 2 inches tall by 1.5 inches wide
Are you interested in learning more about our Energy & Will Votive Candle By Coventry Creations?

Please reach out to me at julie@witchchest.ca

Many Blessings and Merry Meet!