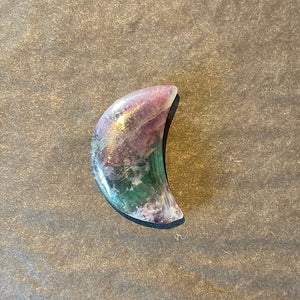 Fluorite is known for clarity and mental enhancement. It clears negative energy and aids in decision-making. It is an absorber of negative energy, specifically within one's aura and mind. It is highly recommended for people who have trouble navigating life by assisting in helping you make the decisions you truly want. Fluorite's astral energy helps in activation of your entire chakra column which will lead to the discovery of your true self. 

The Luna, half moon, or sickle of the moon, waning and waxing moon, is a sign of fertility and to the cycles of life and death. It represents the changing of the seasons and the ebb & flow of the tide.
Witch Chest is happy to offer free contactless delivery in Ottawa on Sunday evenings for orders received by noon on Saturday (weather permitting). Simply select "Local Delivery" on the shipping page.

Have questions, email me at julie@witchchest.ca

Many Blessings!