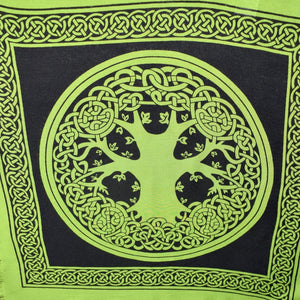 Your magical altar is a sacred place for ritual and spellwork. An altar cloth is most often used to cover your altar, especially if it is made out of wood, to protect the surface, as a decoration and honour your specific deity, Goddess/God or patron.
A beautiful Tree of Life altar cloth, featuring. a large central Tree of Life with root & branch joined in a complex Celtic knot symbolizing the eternal cycle of life & Death. In Wicca, trees are living things that are filled with the essence and energy of the Elements and the Divine. The Tree of Life also shows you how everything is connected; from the smallest organisms to our Earth being a part of the solar system, and the solar system being connected to the galaxies beyond. Cloth measures 18" X 18". Small altar cloth ideal for a small altar or wrapping your tarot cards in.
Are you interested in learning more about our Green Tree Of Life Altar Cloth?

Please reach out to me at julie@witchchest.ca

Many Blessings and Merry Meet!