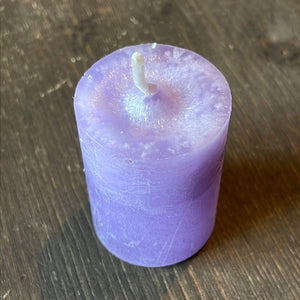 Open your heart to the wonder, beauty, and magic that surrounds you. Embark upon a journey of personal discovery. Uncover and heal past hurts that limit the amount of love you allow yourself to receive. Your heart is the source of self-acceptance and self-esteem. Allow this magical blend to help you clear issues of the past and childhood. 
Blessing: I fill my heart with the love of the universe, healing all past hurts. 

*Fragrances of Lavender, Ylang-Ylang and Rose
**Burn time approximately 10 hours
***Approximately 2 inches tall by 1.5 inches wide
Thank you for visiting WitchChest.ca

We are proud to be Ottawa's ritual product store.

Many Blessings!