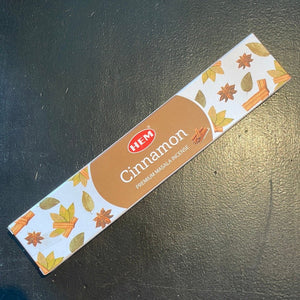 Hem Cinnamon Masala Incense Sticks are handcrafted to diffuse a mesmerizing fragrance that lingers for a longer duration. Its natural ingredients leave you spellbound with its purity and give you the best experience every time. The incense sticks have a sweet spicy fragrance that is delightfully gentle while helping to freshen up any room or environment. 
Hem Cinnamon incense would be an excellent incense to burn for prosperity or love spells. Also, cinnamon fragrance is considered as superpower that helps in treating cold, indigestion, cramps and helps in rejuvenating one's body and mind. Each box of Hem Cinnamon Masala sticks contains 8-inch-long masala sticks that offer a burning time of 30-40 mins.
*10 incense sticks per package
Are you interested in learning more about our Hem Natural Cinnamon Incense Sticks -15g?

Please reach out to me at julie@witchchest.ca

Many Blessings and Merry Meet!