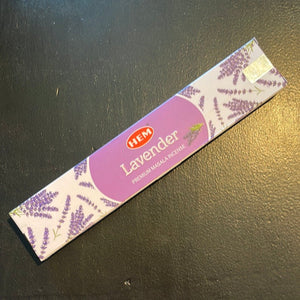 Hem Lavender Masala Incense Sticks are handcrafted to diffuse a mesmerizing fragrance that lingers for a longer duration. Its natural ingredients leave you spellbound with its purity and give you the best experience every time. Due to its calming effect, they act as a perfect companion for any ritual or tradition. They can also be used at home for its fragrance. It has a floral fragrance that is delightfully gentle that soothes and at the time freshens up the premises.
Hem Precious Lavender Incense Sticks also acts as an anti-depressant, mood uplifting that positively impacts and gives you a festive feel. Each box of Hem Lavender Masala sticks contains 8-inch-long masala sticks that offer a burning time of 30-40 mins.
*10 incense sticks per package
Are you interested in learning more about our Hem Natural Lavender Incense Sticks -15g?

Please reach out to me at julie@witchchest.ca

Many Blessings and Merry Meet!