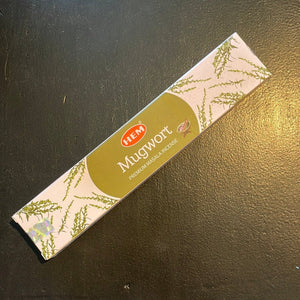 Hem Mugwort Masala Incense Sticks have a fragrant aroma suitable for meditation and relaxation. They are widely used to enhance psychic perception and makes a brilliant scrying incense. Hem Masala Sticks are a unique blend of many natural ingredients such as herbs, flowers, aromatic plants and leaf extracts.
The Hem Mugwort Masala sticks are hand-rolled and lightly coated with an aromatic wood powder. Each box contains 8-inch-long masala sticks that offer a burning time of 30-40 mins.
*10 incense sticks per package
Witch Chest is happy to offer free contactless delivery in Ottawa on Sunday evenings for orders received by noon on Saturday (weather permitting). Simply select "Local Delivery" on the shipping page.

Have questions, email me at julie@witchchest.ca

Many Blessings!