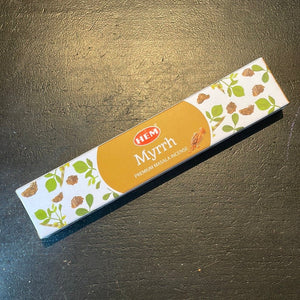 Hem Myrrh Masala Incense Sticks has a warm earthy and woody fragrance aroma. Myrrh is an excellent fragrance to help with relaxation.
Myrrh Masala Sticks are made of natural ingredients and hand-rolled for genuine quality. Our incense sticks are a popular choice amongst meditation and yoga centres.They are known to enhance concentration levels and uplift confidence and optimism. Each box of Myrrh incense contains 8-inch-long masala sticks that offer a burning time of 30-40 mins.
*10 incense sticks per package
Are you interested in learning more about our Hem Natural Myrrh Incense Sticks -1?

Please reach out to me at julie@witchchest.ca

Many Blessings and Merry Meet!