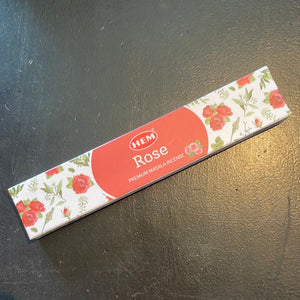 Hem Rose Masala Incense Sticks are handcrafted to diffuse a mesmerizing fragrance that lingers for a longer duration. Its natural ingredients leave you spellbound with its purity and give you the best experience every time. A perfect companion for any love spell or ritual. They can also be used at home for its fragrance. It has a floral fragrance that is delightfully gentle that soothes and at the time freshens up the premises.
Hem Rose incense sticks have a sweet floral aroma. Let the natural soft fresh scent of rose surround and enhance your environment.Each box of Hem Rose Masala sticks contains 8-inch-long masala sticks that offer a burning time of 30-40 mins.
*10 incense sticks per package
Witch Chest is happy to offer free contactless delivery in Ottawa on Sunday evenings for orders received by noon on Saturday (weather permitting). Simply select "Local Delivery" on the shipping page.

Have questions, email me at julie@witchchest.ca

Many Blessings!