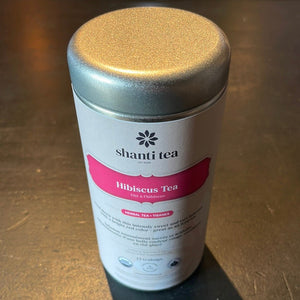 Cool down with this intensly sweet and tart infusion with a bright red color - great as an iced tea. This premium herbal tea is made from the dried calix of the hibiscus flower.
High in vitamin C and caffeine-free, the liquor has an astonishing candy-apple red color with an intense, fruity, sweet and sour flavor. It has been shown to lower blood pressure; Very rich in vitamin C (a great antioxidant, good for the immune system as well as a necessary vitamin for the production of collagen - collagen is a protein that is a building block for healthy skin, tendons & ligaments, blood vessels.).
May assist in weight loss by slowing the absorption of carbohydrates (if consumed after meals). Hibiscus tea is delicious, refreshing, and can be enjoyed hot or cold.
Sweeter can be added to mellow down the tartness. Hibiscus tea can be a healthy alternative to juice, great for all ages.
Witch Chest is happy to offer free contactless delivery in Ottawa on Sunday evenings for orders received by noon on Saturday (weather permitting). Simply select "Local Delivery" on the shipping page.

Have questions, email me at julie@witchchest.ca

Many Blessings!