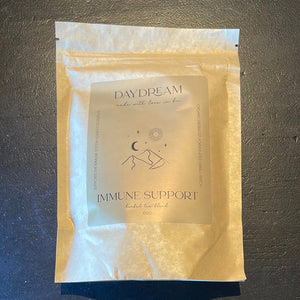 Immune Support herbal tea blend has been formulated to help stimulate and modulate your immune system. This herbal tea blend can be used to:
Ease symptoms of colds, flus and other infections.

Protect the body from colds, flus and other infections.

Contains Chamomile Flowers (Matricaria recutita), Milky Oat Tops (Avena sativa), Holy Basil (Ocimum tenuiflorum), Peppermint Lear (Mentha piperita), Schisandra Berries (Schisandra chinensis), Lemon Balm Herb (Melissa officinalis) Sweet Fennel Seeds (Foeniculum vulgare).
Pouch of herbal tea is 100g

Organic and Vegan

Cruelty-free and Ethically sourced

Made in Canada

Shelf life: 12-24 months 
How to Use:
Add 1-2 tablespoons of our immune support herbal tea blend to hot water and allow to steep, covered, for approximately 10 minutes.
Witch Chest is happy to offer free contactless delivery in Ottawa on Sunday evenings for orders received by noon on Saturday (weather permitting). Simply select "Local Delivery" on the shipping page.

Have questions, email me at julie@witchchest.ca

Many Blessings!