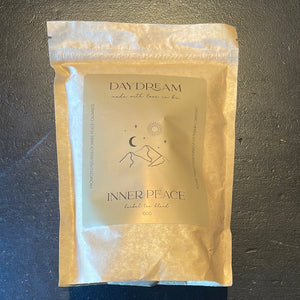 Inner Peace herbal tea blend has been formulated to help find a mental and physical sense of calmness and relaxation. This herbal tea blend can also help to:
Relieve general symptoms of stress and anxiety.

Restore a sense of balance to the mind, body and soul.

Contains Chamomile Flowers (Matricaria recutita), Milky Oat Tops (Avena sativa), Holy Basil (Ocimum tenuiflorum), Peppermint Lear (Mentha piperita), Schisandra Berries (Schisandra chinensis), Lemon Balm Herb (Melissa officinalis) Sweet Fennel Seeds (Foeniculum vulgare).

Pouch of herbal tea is 100g

Organic and Vegan

Cruelty-free and Ethically sourced

Made in Canada

Shelf life: 12-12 months
How to Use:
Add 1-2 tablespoons of our Inner Peace herbal tea blend to hot water and allow to steep, covered, for approximately 10 minutes.
Are you interested in learning more about our Inner Peace Herbal Tea - Daydream Organics?

Please reach out to me at julie@witchchest.ca

Many Blessings and Merry Meet!