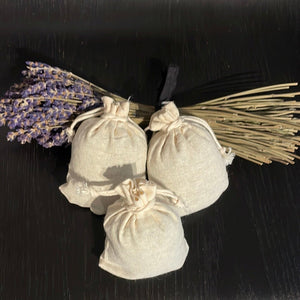 Small cotton bag with dried lavender flowers.

Lavender is most often used as an asperging herb (to add to water for purification purposes) and dried lavender can be burnt like incense over a charcoal disk. It is also useful in spells to sharpen the mind, to encourage or strengthen pure love and to encourage fertility.

The scent of lavender is relaxing and uplifting all at once making it great aromatherapy for stressed out or depressed individuals. Try adding some lavender buds to your bath or making a pillow insert with lavender buds to help you relax and fall asleep. Lavender also soothes headaches.
*Dried lavender bouquet shown in picture not included 
**Cotton measures approximately 3 by 4 inches
Thank you for visiting WitchChest.ca

We are proud to be Ottawa's ritual product store.

Many Blessings!