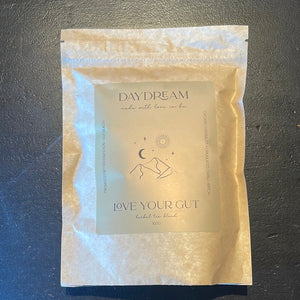 Our Love Your Gut herbal tea blend has been formulated to help you boost your gut health and show your gut lots of love. This herbal tea blend can help to:
Regulate the digestive process.

Alleviate and prevent post-meal bloating or digestive discomfort.

Promote overall better gut health.

Contains 

Chamomile Flowers (Matricaria recutita), Sweet Fennel Seeds (Foeniculum vulgare), Dandelion Root (Taraxacum officinale), Ginger Root (Zingiber officinale), Orange Peel (Citrus × sinensis), Peppermint Leaf (Mentha piperita).
Pouch of herbal tea is 100g

Organic and Vegan

Cruelty-free and Ethically sourced

Made in Canada

Shelf life: 12-2 months
How to Use:
Add 1-2 tablespoons of our Love Your Gut herbal tea blend to hot water and allow to steep, covered, for approximately 10 minutes.
Are you interested in learning more about our Love Your Gut Herbal Tea - Daydream Organics?

Please reach out to me at julie@witchchest.ca

Many Blessings and Merry Meet!