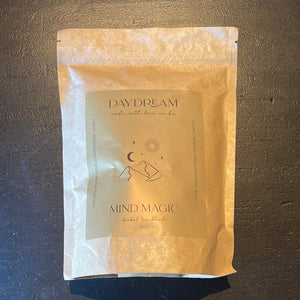 Our Mind Magic herbal tea blend has been formulated to promote a strong and healthy mind. This herbal tea bend can be used for:
Reducing the mental effects of stress and anxiety.

Enhancing focus, memory and concentration.

Clarifying the mind and relieving feelings of 

"brain fog"
Lessening feelings of mental fatigue.
Contains Yerba Mate (Ilex paraguariensis), Green Tea (Camellia sinensis), Rosemary (Rosmarinus officinalis), Peppermint (Mentha piperita, Bacopa (Bacopa monnieri), Siberian Ginseng (Eleutherococcus senticosus), Ashwagandha (Withania somnitera, Lemon Peel (Citrus limon), Guayasa (lex guayasa).
Pouch of herbal tea is 100g

Organic and Vegan

Cruelty-free and Ethically sourced

Made in Canada
Shelf life: 12-24 months
* Please note that this blend does contain small amounts of caffeine in the form of Green Tea and Yerba Mate.
How to Use:
000
Add 1-2 tablespoons of our Mind Magic herbal tea blend to hot water and allow to steep, covered, for approximately 10 minutes.
Are you interested in learning more about our Mind Magic Herbal Tea - Daydream Organics?

Please reach out to me at julie@witchchest.ca

Many Blessings and Merry Meet!