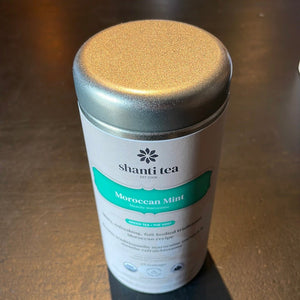 Minty, refreshing, full-bodied traditional Moroccan recipe. This traditional Moroccan tea is a refreshing blend of Chinese Gunpowder green tea and peppermint, and is great for alleviating heartburn. The classic recipe is heavily sweetened with raw sugar or agave nectar, however we've found that it is quite refreshing unsweetened as well.
Moroccans drink this tea several times throughout the day, and on formal occasions, the tea is ceremonially prepared with beautifully crafted teaware. This tea can also be served cold with ice as a refreshing summer drink.
Are you interested in learning more about our Moroccan Mint - Shanti Tea?

Please reach out to me at julie@witchchest.ca

Many Blessings and Merry Meet!