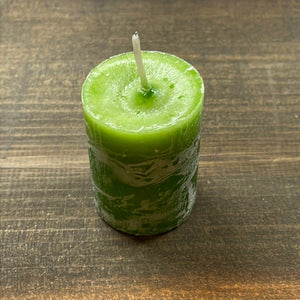 Prosperity and abundance are available in unlimited quantities, so don't be shy. Manifest all you desire and deserve. The universe is filled with unlimited prosperity, ready for your call and commitment. All you need is the desire, commitment, and knowledge that you deserve. 
Blessing: I am filled with the unlimited abundance of the universe and manifest all that I need. 
*Fragrances of Orange Blossom, Clove & Cinnamon
**Burn time approximately 10 hours
***Approximately 2 inches tall by 1.5 inches wide
Thank you for visiting WitchChest.ca

We are proud to be Ottawa's ritual product store.

Many Blessings!