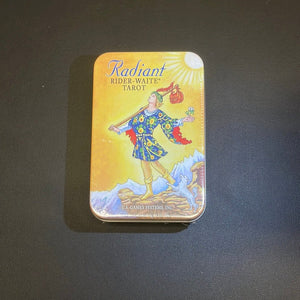 The brilliantly coloured tarot deck that has been popular for decades is now presented in a charming keepsake tin. For Radiant Rider-Waite, the artwork of Pamela Colman Smith has been updated and enhanced with a vibrant palette of colors, bringing new energy and radiance to the familiar scenes of 78 cards. Radiant Rider-Waite's brightness and subtle shading highlight the traditional symbolism that readers rely on for insightful readings. The card backs feature a star-filled deep, blue sky.
Are you interested in learning more about our Radiant Rider-Waite Tarot Collector Tin?

Please reach out to me at julie@witchchest.ca

Many Blessings and Merry Meet!