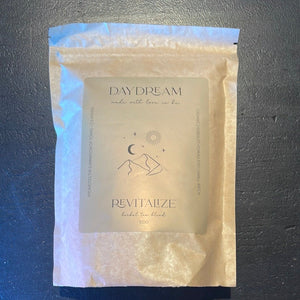 Our Revitalize herbal tea blend has been formulated to help you cleanse and renew the body. This herbal tea blend features a variety of herbs that are known to:
Promote the elimination of toxins and waste from the body.

Support better, healthier energy levels.

Support healthy functioning of the lymphatic system, the liver and other organs/systems.

Revitalize the mind and the body.

Contains 

Burdock (Arctium lappa), Red Clover Herb & Flower (Trifolium pratense), Cleavers (Galium aparine), Pau D'Arco (Tabebula impetiginosa), Ginger (Zingiber officinale), Fenugreek(Trigonella foenum-graecum), Rosehips (Rose canina), Sarsparilla (Smilax regelii), Licorice(Glycyrrhiza glabra).

Pouch of herbal tea is 100g 

Organic and Vegan

Cruelty-free and Ethically sourced 

Made in Canada

Shelf life: 12-24 months
How to Use:
Add 1-2 tablespoons of our revitalize herbal tea blend to hot water and allow to steep, covered, for approximately 10 minutes.
Thank you for visiting WitchChest.ca

We are proud to be Ottawa's ritual product store.

Many Blessings!