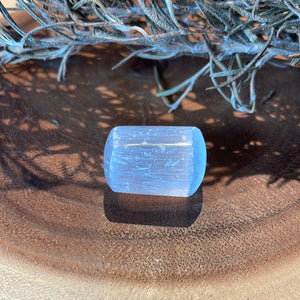 Selenite is a master cleanser, removing negative energies. It calms the mind and instills deep peace during meditation or spiritual work. Selenite assists the user by enhancing judgement and insight. It eliminates confusion and helps one to see the big picture. Excellent for cleansing your tarot decks or other crystals.
*Approximately 1 inch in length by 0.75 inches in width by 0.5 inches tall
Are you interested in learning more about our Selenite Tumbled (Small)?

Please reach out to me at julie@witchchest.ca

Many Blessings and Merry Meet!