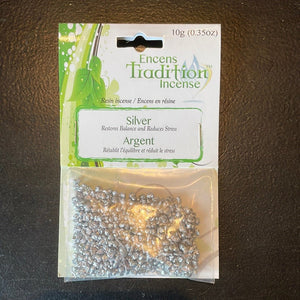 Tradition incense resins are made from premium all-natural hand-picked ingredients from specific continents around the world. The blends are prepared and strictly controlled to guarantee the best quality incense according to the properties of each unique fragrance. The scents are rich, flavourful and authentic.
Silver - Restores balance and reduces stress 
Thank you for visiting WitchChest.ca

We are proud to be Ottawa's ritual product store.

Many Blessings!