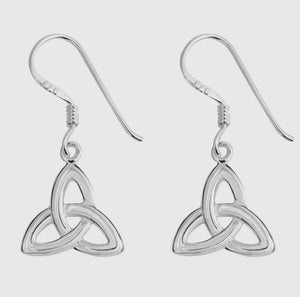 The Triquetra symbolizes the three faces of the Goddess, balance of the Mind, Body and Spirit. The circle signifies the ever-turning cycle of life, death and rebirth. Germanic neopagan groups who use the Triquetra to symbolize their faith generally believe it is originally of Norse and Germanic origins. The symbol is also sometimes used by wiccans and witches to symbolize the Triple Goddess, or as a protective symbol.
*Each earring measures approximately 0.50 inch
Witch Chest is happy to offer free contactless delivery in Ottawa on Sunday evenings for orders received by noon on Saturday (weather permitting). Simply select "Local Delivery" on the shipping page.

Have questions, email me at julie@witchchest.ca

Many Blessings!