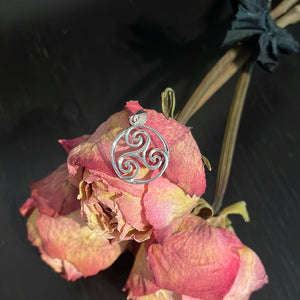 Derived from the Greek word "Triskeles" meaning "three legs", the triskellion or triple spiral is a complex ancient celtic symbol. The spirals are believed to signify energies in particular the motion of action, cycles, progress, revolution and competition as well as the unity of mental, physical, and spiritual self.
*Measures approximately 0.75 inches
**Pendant only, chain not included
***Does not include wooden tray or dried roses in picture 
Witch Chest is happy to offer free contactless delivery in Ottawa on Sunday evenings for orders received by noon on Saturday (weather permitting). Simply select "Local Delivery" on the shipping page.

Have questions, email me at julie@witchchest.ca

Many Blessings!