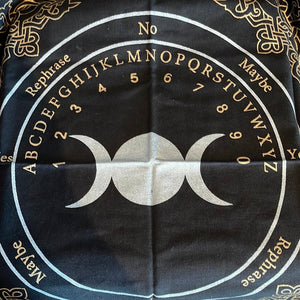 Triple Moon pendulum altar cloth in silver and gold on a black background. Measures approximately 24 by 24 inches and is 100%cotton. 
Pendulum mats help to "program" your pendulum, clarifying the meaning of each swing so that you can more easily understand what your pendulum is telling you.
The usage of the pendulum is very popular in Modern Wicca; they are easily used to communicate with the Divine. A pendulum is a great tool for self discovery, energy detection, divination, spiritual healing and inner growth.
Thank you for visiting WitchChest.ca

We are proud to be Ottawa's ritual product store.

Many Blessings!