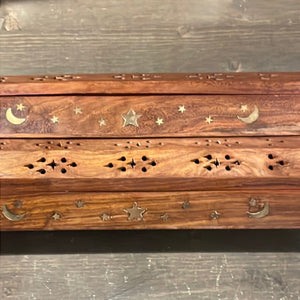 In its essence, smoke cleansing is the burning of special herbs and resins for ritual purposes. This is something Witches have done for centuries.

Wooden incense burner serves as an incense ash catcher and burner and storage all in one. Includes pre-drilled holes to hold your incense sticks in. Each burner measures approximately 12 inches long by 2.25 inches wide by 2.5 inches high.
* Does not include incense sticks in pictures.
Are you interested in learning more about our Wooden Incense Storage Box Burner with Gold Moons & Stars?

Please reach out to me at julie@witchchest.ca

Many Blessings and Merry Meet!