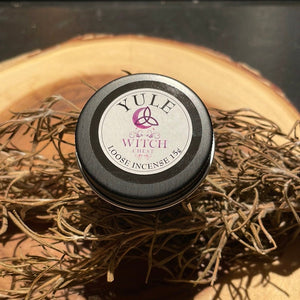 The eight solar celebrations, known as Sabbats are the most commonly celebrated and revered occasions on the pagan calendar, marking the ever-changing seasons.

Observing the cycle of the seasons has been important to many people, both ancient and modern, and many contemporary Pagan festivals are based to varying degrees on folk traditions. The Wheel of the Year is the pagan annual cycle of seasonal festivals. It consists of eight festivals: the solstices and equinoxes, known as the "quarter days", and the four midpoints between, known as the "cross quarter days". The name and date of festivals celebrated by differing sects of modern Paganism can vary considerably.

Yule: December 19-23
Yule Loose Incense - Contains frankincense resin, cinnamon chips, myrrh resin, pine resin, juniper, juniper berries, dried rosemary and essential oils of frankincense, pine, cinnamon and myrrh 
*Not for internal consumption
Are you interested in learning more about our Yule Loose Incense - 15g?

Please reach out to me at julie@witchchest.ca

Many Blessings and Merry Meet!